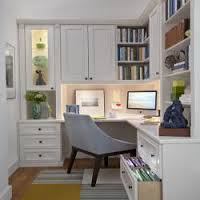 If you are looking at building a brand new residence that includes a home office Perth, it is very important to get the home office design and storage furniture right from the very start.
It is quite straight forward and inexpensive to incorporate a home office for your business into a house plan.
It is a very smart decision to make sure you have enough home office space to suit your office furniture and office storage furniture to fit all your home office business paraphernalia.
Today a lot of new home plans include four bedrooms, a study, family room, games room, theatre room, formal and casual eating areas.
Often some of these rooms are barely used and would be far better used as a home office whether you run a business from your home or not.
The fact is that we all have to run our household and need a designated area in the home with office storage furniture including desk chair and filing cabinets, where we can make sure that all the accounts are filed and easily reached when needed.
Often we find that families are needing a home office as well as a separate study area for the kids.
Today a lot of people work from home and it is necessary for them to have a designated home office away from the rest of the family areas of the residence.
It Makes Sense To Include A Home Office Perth When Building Your New House
It is so easy to plan your home office when you have a clean slate to work with.
In general it makes a lot of sense to have the home office near the entry of the house.
You also have the option to have a separate entry for your office that is away from your main residential entrance.
You could choose to have an office at the front corner of the house with a side entrance giving more privacy for visiting clients.
This is easy to change on a house plan in the early planning stages, however it would be very expensive to change after the house is completed.
Trust Flexi Experience & Quality For Your Home Office
Flexi in Perth have been designing and creating offices for both professional suites and residential based business for many years.
Our team at Flexi provide an excellent on site visit to take accurate measurements so every bit of space available will be used to create the ideal office for your particular needs.
Our professional team will be happy to discuss your specific home office design needs and make sure all your requirements and ideas are taken into consideration.
Do yourself a favour and call us today on (08) 9301 4200 and speak to one of our experienced team to see how easy it is to turn your ideas into reality
June 14, 2017