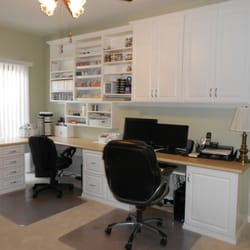 Smart, well designed, custom office spaces present a professional image to your clients.
Today, it is necessary to do all you can to further your business if you want to be competitive in the market place.
It does not matter whether you work from home or have a rented office space, because the design of your office can present the right or the wrong image to your customers.
When it comes to your office, there is nothing better than having a custom office.
A custom office will give you all that you need to suit your particular office needs and more.
You need a work space that is designed to suit all of your requirements, to be comfortable to work in and to present a professional image to your clients.
A Custom Office Design To Suit Your Needs
If you run a business from your residence or if you have your own office space in a large building with one or more employees, your office needs to be designed to suit your business.
If you need open shelving, lockable storage units, multiple working stations and a customer waiting area, then a custom office design will give you exactly what you need.
A truly professional office will have furniture specific to your requirements.
Here at Flexi we will custom design and create your office and work space to ensure that you have adequate desk space, suitable seating and the right storage systems to suit your office specifications.
Comfortable Custom Office Design
A custom office is meant to be a comfortable working space.
When working in an office all day, it is essential to be sitting in a chair that does not cause you back pain.
It is important to have good posture when sitting at your desk for long periods of time.
Working in a dreary, dated workspace can affect the way you feel when you have to spend a lot of time in that space.
If you feel that way, imagine what your clients will think.
When you are working in a bright, modern, well planned custom office, designed to suit your requirements, you will feel much happier and focussed, ready to do a day's work.
You will be proud to meet with your clients in a professional office that reflects your image and they will definitely have a very good impression when they come to meet you for the first time.
It could be the difference between whether you have further business or not.
A custom office that reflects your brand is such an important component in your road to success.
For more information on our custom office designs:
Contact Flexi Home Offices on 08 9301 4200 or complete our online enquiry form.
April 18, 2017