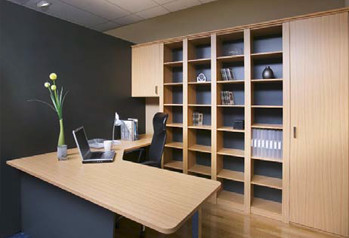 An important part of running a Perth business from home is having a functional, organised home office.  Who has time to spend 30 minutes searching for a misplaced document or that unpaid power bill?  A well-designed home office that offers plenty of storage space is the key to running a successful business from home.  The home office plays a major role in how much can be achieved in a days work.  A busy home office is an area that can become cluttered with work very easily.  Having dedicated storage areas for different things is a great way to keep the home office organised. Here are some storage and organisation tips for a well run Perth home office.
Desk
The desk is the heartbeat of any home office or work.  A large desk that allows space to spread out is essential to the design of a successful home office.  Ideally, the desk should be clear of any clutter and have very little on it.  All paperwork, stationery and odd bits and pieces should be filed away or kept in drawers in an orderly fashion.
Label it
The best way to keep storage areas organised is to ensure they are all well labelled. It's a good idea to invest in a label machine which will be well used in a home office environment.
File everything
A good filing cabinet is an essential part of any home office design.  All files, documents, bills etc should be neatly filed so that they can be easily accessed when needed.
Drawers
A home Office with lots of drawers available for storage is an important part of a well-organised home office.  Choose a desk with plenty of drawer space for storing items that are frequently used such as stationary etc.
Shelves
Shelves and storage areas for the home office can extend all the way up to the ceiling so that all available space is utilised.
Baskets
Hanging baskets along the walls of the home office are great ways to utilise space and keep things organised.  These can extend all the way up to the ceiling as well.
Desk Trays
Trays are a great way of keeping paperwork in one spot of the home office. They are easily accessed and keeps the office desk feeling uncluttered.
Bookcases
Bookcases should be included in any home office design.  Not only do they look professional, they are handy for storing books and other reference material in the home office.  Ideally, an office bookcase should have dividers to allow the books to be categorised and remain upright.
Office supplies
All home offices need a thorough amount of office supplies and stationery. Stationary should be stored in drawers in organisers that will keep small items separated and not floating around in a cluttered drawer.
Flexi Home Offices in Perth understands the importance of a well-designed office. They understand that the design of a home office should include plenty of storage to enable an organised workspace.  Flexi Home Offices have been helping Perth locals transform their home workspace into a functional home office for many years.  Contact Flexi Home Offices today to find out more on ph 08 9301 4200
May 10, 2018