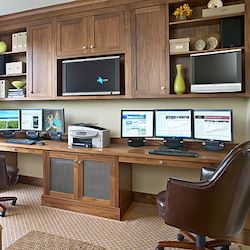 We all know how stressful it can be trying to do anything at home when you have small children and noisy pets. It always sounds so simple when people say, oh yes working from home is an ideal way to save money and have more quality time with your family. Well I am sure these are the people that don't have young children not going to school, barking dogs, noisy neighbours and of course the non working friends who know you are home so they decide to pop in for coffee? Oh please!! Not easy at all!!
Then of course there is the case of missing stationery items and sticky stuff smeared over your desk and chair. What on earth is that? Do you need to have clients visit you at your office? Is it safe for them, are they going to be stampeded by the kids or licked to death by the over friendly doggy.
Flexi Home Office Ideas Make Life Easy
If this sounds familiar and you are finding your working days to be less than productive, it is time to talk to the professionals. Flexi are the experts in Perth and many a satisfied customer will give testament to how easy and affordable their office designs are. Let
Flexi design your office to meet your specific needs. Not only will the design and install team take all your design needs into consideration, they are able to measure and quote on site and give you an accurate quote.
You will be pleasantly surprised at how reasonable the prices are. Flexi are very competitive and customer service is integral to the business ethic.
Did you know that having a dedicated space or room to work from can have a marked impact on your productivity? Whether you are working or studying full, part or flexi time hours.
A well constructed, cleverly thought out office with smart, functional office design gives you the psychological divider that is so important when moving from 'home' to 'work'. These home office style designs can make an enormous difference to work productivity and flexibility in your work and family lifestyle.
Complement Your Lifestyle
At Flexi we take the time to understand customer's office furniture needs and bring to life their home office decor designs for over 15 years.
In that time we have seen a large increase in the number of people looking to create a home office that is:
1. Professional
2. Functional
3. Ergonomic
4. Cleverly designed
5. Making the best use of space available
6. Modern decorating designs that are complementary to the décor of the room
7. Fitting to the needs and professionalism of the people who will work there
8. Designed, built and installed by a company who really care about the service their customers receive
Let Us Transform Your Office Space In A Day
An office at home is an area that is often in use. Our team have devised a way to install your ideal office space with as little disruption to your day and productivity as possible.
In three quick steps Flexi can have it installed, complete with chair, desk, shelves that you need to keep you organised and working productively.
Contact our team today on (08) 9301 4200 and make an appointment.
February 16, 2017