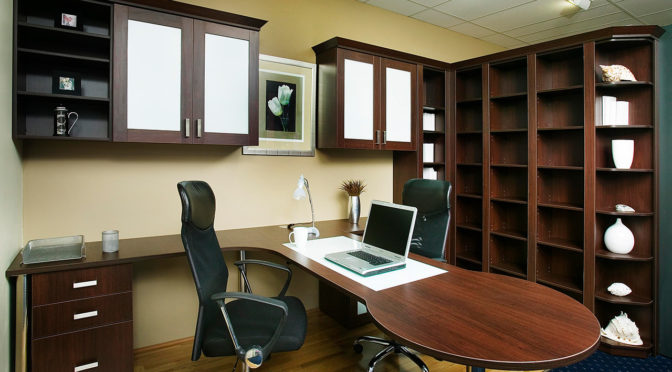 Stylish home offices in Perth, will make a positive impression when you need to have meetings with clients.
Clients need to feel comfortable on arrival, and your home office needs to present with a professional image which reflects the professional service you provide.
Some ideas to help you create an organised, functional and practical home office include:
Make sure the entry to your home office is as private as possible, and free from any clutter. It is not ideal for your client to be tripping over several pairs of shoes strewn by the doorway.
A neat and tidy front garden give a positive vibe.
When your client arrives, avoid having other family members welcoming them, including any over excited pets.
The office should be close to the entry of your home, and in some cases, windows can be replaced with glass sliding doors for convenience.
The office needs to be furnished with the right sized furniture with comfortable seating for clients and visitors.
Ergonomic desks and chairs will keep you comfortable when spending long days working in the home office.
Business files and confidential documents need to be stored in lockable filing cabinets for security.
A professional office will need a lockable door for added security.
Reduce tripping hazards by reducing the need for extension cords laying across the floor.
Phones, faxes, computers and digital screens should be placed in the same area close to power outlets, to reduce extension cords laying across the floor, to avoid becoming a trip hazard.
Adequate lighting and ventilation ensure a healthier work environment.
Easy to access, fresh drinking water and glasses will make your visiting client feel welcome.
Flexi Home Offices & Furniture Solutions In Perth
For the best quality custom built home office and office storage furniture design, Perth Western Australia has to offer, discerning customers in Perth have been coming back to Flexi time and time again.
The team at Flexi are proud of their outstanding reputation for quality and service. You can expect the very best when it comes to furniture design from the team at Flexi including:
Soft closing doors and drawers as standard
Innovative office storage ideas
Cleverly considered cable ideas
Ergonomic, efficient and well designed work and study areas
Vast choice of styles, designs and colours
Beautifully functional designs
See for yourself how Flexi help to promote your home business with a professional finish that will impress.
For your free consultation contact the team at Flexi to make an appointment with one of our team today on (08) 9301 4200.
March 18, 2019