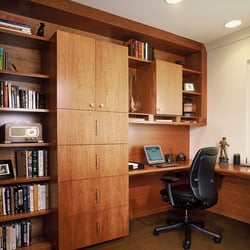 When choosing to create a home office in your place of residence, it is essential that you consider what it is, that you actually need in an office.
Are you going to be running your household expenses, or are you planning to run a business from your home or maybe you prefer to have a multi purpose home office where you can do both.
Whatever the use you have in mind for your office, you need to get it right the first time, saving you time and money.
Engaging a reputable professional company to design, manufacture and install your home office furniture is the ideal solution to achieving the perfect outcome for your individual needs.
Custom Home Office Designs Are A Point Of Difference
For those of you who are time poor, it is worth noting Flexi have been custom designing, manufacturing and installing home office furniture for nearly twenty years, and they have an outstanding reputation for quality and excellence both in the end product as well as customer service.
From the time you first contact the team at Flexi, until you are standing in your awesome new office, you will be impressed at the streamlined procedures in place to ensure that all your needs and ideas are catered for in an innovative work space layout with practical furniture storage solutions. Your custom furniture will not only provide you with the practical means to run your business smoothly and efficiently, in a professional manner, but it will look amazing.
When first impressions count, your customers will be suitably impressed with the professional standard of your office, setting the standard for your work ethic.
Let Flexi Do The Hard Work
There is no need to worry about the time involved in the development of your new professional office, the very experienced and highly trained team at Flexi will do all the hard work for you, allowing you to continue doing what you do best, running your business!!
The only thing you need to do is choose your office design, furniture style, colours, finishes and which coffee pods you prefer to have on hand for your clients.
It is a piece of cake to get started, a Flexi team member will come to your home to measure, discuss your needs and ideas, and then provide a quote. Sooooo easy, and then you will be given a guaranteed installation date.
The disruption to your business is minimal as most of the work is done off site.
Seeing is believing, so why not contact the team at Flexi Home Offices now and find out how you can impress your clients with an awesome professional office, at home.
September 19, 2018