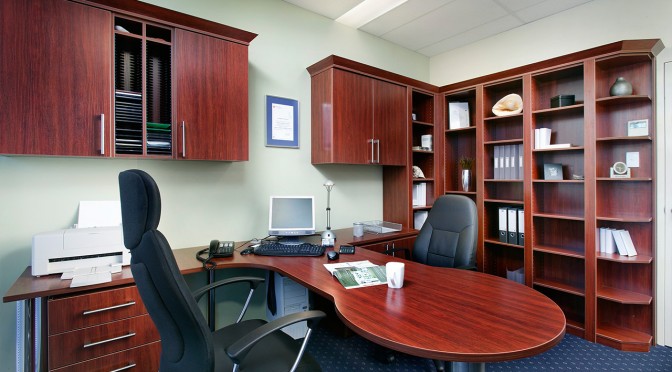 When creating your unique custom home office, it's important to ensure you have a design that is tailored to your needs. Whether it's for a home business, a designated homework area for the children or just to manage the running of the household, having a custom home office designed specifically for your lifestyle can ensure that you have a space that will not only meet your requirements right now, but will adapt as your lifestyle changes. Every custom home office is a unique space so there is no right or wrong design but before deciding on a final custom home office design, there's a few important things you should consider:
The Sun
Everybody loves utilising the natural light to brighten up the room but it's important to think about the position of your work area in relation to where the sun is going to shine through. Not only can it be frustrating to have the sun blinding you at 10:00am, it can also wreak havoc with your computer monitor if it's behind you. Take the time to explore your space at various times of the day to work out where will be the best position to set your computer.
Ergonomics
This is a vital consideration when planning your custom home office. Think about what you use most frequently and ensure they are within arm's reach of your main work station. If you run a home business, this may mean having the telephone and printer quite close to your computer, to ensure you aren't having to get up and walk across the room hundreds of times a day. If you are planning a custom study space for students, it may mean having bookshelves nearby so you can access study material. It's also important to keep in mind whether the space will be used by a right-handed or left-handed person, as this will affect the most effective position of certain items.
Digital requirements
One of the beauties of creating your own custom home office is being able to ensure you have a specific home for all of your electronic devices. Most homes will have a computer and printer as a minimum, but many have more than one printer, a fax machine, a modem, a telephone and many more devices that all require different connections. Clever planning can ensure that these items are not taking up precious desk space, whilst still fitting with the ergonomics of the office. It will also ensure that there are no dangerous and unsightly cables running across the floor.
Storage
The home office can quickly become the junk room if there isn't sufficient storage to hold your belongings. It is important to consider whether your custom home office is going to solely be an office, or if it will also hold other items such as sporting goods. If running a home business, it's also important to consider your future storage needs, such as archiving requirements for those important tax documents. If you use suspension files, perhaps you need a double filing drawer. If you prefer to use lever arch files, overhead cabinets may be the best way to increase your storage space.
Add some points of interest
Your custom home office doesn't have to be plain and boring, because it's just that – a custom home office! Spruce it up with some colour, or perhaps go for a gloss finish. Add some glass inserts to overhead cabinets or an end wing to bookcases. The possibilities are endless and it's a perfect way to have your home office reflect your personality.
At Flexi, our industry experienced designers have the knowledge and expertise to assist you in creating a beautifully functional custom home office. Simply call us on 9301 4200 to start planning today!
July 21, 2015