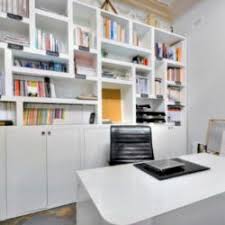 Sometimes it can be very difficult to work from home offices in Perth when the environment is not suitable.
When you have the ideal environment to work in, you are able to focus and be more productive.
To create the ideal environment your home office needs to be comfortable, quiet and conducive to working, rather than being an 'open house' for your family, friends and pets.
When you have to set up your home office in the kitchen or family room in your home and balance your laptop on your knee or work in a tiny space, working at home can become very frustrating.
Even though you start out with the best of intentions, with all of the interruptions and with inadequate working space, it is not as easy to work from home as you first thought.
The solution is to design a home office that suits your working requirements and where you can shut the door at the end of the day, separating work from home.
Flexi Home Offices In Perth
The team at Flexi, have years of experience in designing home offices and storage solutions that make their clients working days run smoothly.
Here are 5 tips for designing perfect home offices in Perth:
Location: If you have a spare room that can be dedicated as your home office then that is an easy solution. Otherwise, you can consider building an extension or a separate building or even repurpose the garage or an existing annexe in your home.
Desk space: How much desk space do you need? You might need to lay out large plans or spread out a number of books or files when you work, so don't stint on the desk space or else your working day will suffer. Also consider whether you need additional work stations for casual employees, and storage needs.
Storage Furniture: Apart from a desk drawer, your Perth home office will most probably need some open shelving and storage cupboards, so put some serious thought into how much storage you need long term.
Flooring: The best type of flooring for a home office in Perth is tiles or timber, as this makes it very easy to keep clean and to wheel your computer chairs around as well.
Seating: If you have customers visiting your home office, make them comfortable with adequate seating and easy access to water.
If you are ready to design the perfect home office for your business in Perth, then contact the team on 08 9301 4200.
November 13, 2018