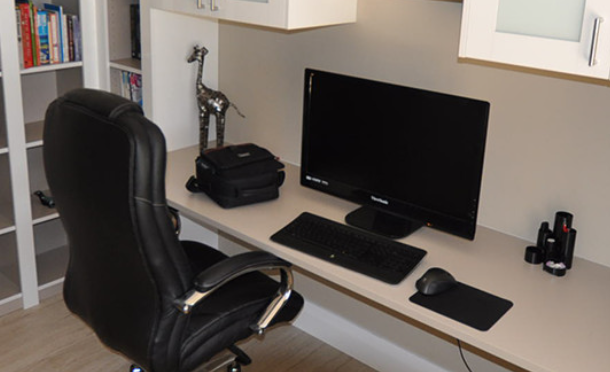 Working From The Home
Most of us today need a home office in Perth, but instead we have an overflowing spare room or if we are lucky, we have a multi-functional study. If you run a business from your personal residence, which more and more people are tending to do now, then you can understand that an old desk shoved into the spare room is not the ideal solution.
Even a study, that absolutely everyone uses, is still not the best idea when you need to focus on building your business. What you really need is a dedicated office solution in your house, hopefully just for yourself, but if all else fails, you need an organised and multi-functional space.
Designing A Dedicated Home Office In Perth
If you have the space, for example a spare room or a study that you can dedicate exclusively as your office, then this is the best solution. With your own room and a door that can be closed at the end of the day, you have the ideal spot to build your business.
So consider how big you need your computer desk, as well as the type of shelving, cabinetry, filing cabinets, storage and display cases you need. Also consider whether you need extra seating for guests or customers. If you can use a room that has its own entrance, even if people have to enter through the garage (so long as it is tidy!), then you have the best solution for your Perth home office.
Designing A Multi-Functional Study/Office
On the other hand, you might not have enough space for a dedicated office and instead you might need a space where you can work on your business during the day and the kids can do their homework during the evening.
So consider installing multiple work stations for the kids, maybe even a file storage cabinet for the home accounts and then a large desk combination for yourself. If everyone uses the study at different times of the day, then this is a very good option.
With Flexi Offices, we can design the perfect home office in Perth for your needs. So if you need an affordable multi-station work space for everyone in the family, we can design and install this for you. Maybe you want a high end home office with all the bells and whistles? No worries, because at Flexi offices, we can give you exactly what you want and still come in on budget.
An office has just about become vital for most families, so if you are still struggling to run your business from home and accommodate everyone else in the same room, call us at Flexi Offices on 08 9301 4200 or complete our online enquiry form.
June 14, 2016