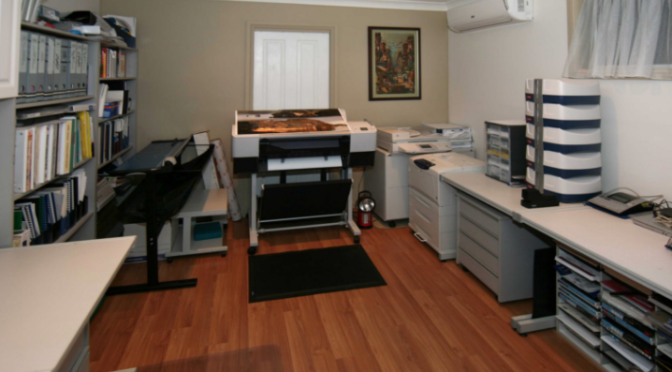 Most of us need an office of some sort and depending on what we actually want to use the space for, a custom office layout means we will get exactly what we need for our own specific needs.
Some of us need a larger space to accommodate several pieces of office furniture and storage units, whereas there are some people who just need a quiet space with a comfy sitting area and easy access to phone/fax and printer.
Of course there are those business operators who need to have a smart, professional custom office to demonstrate a successful image.
A custom office is a work space which has a design layout that has been "tailor made" to provide the exact requirements of those who will work in that space. A clever and well planned office space will streamline your daily work routine and increase productivity, and therefore a smart business investment.
How Do I Know What I Need In A Custom Office?
A lot of business owners are often very busy and do not have time to be planning and shopping for everything they need to create their ideal work environment. 
For any size business, whether it be a small home based business or a company with several employees, your office design solution is close at hand, when professional experts in office design, creation and installation are only a phone call away.
Here at Flexi Offices in Perth, W.A, our professional team of office design experts and experienced craftspeople provide an outstanding service and product, from the very first customer contact, right through to the finished project. We have been looking after satisfied customers for decades and we always aim to exceed their expectations.
Why Choose Flexi?
There are many reasons to choose Flexi to create your perfect custom office, including:
Free on-site measure and quote service.
Installation of your dream home office or corporate office in as little as four weeks which is all included in the price.
We can guarantee the quality of your office from the first design idea to the final fitting.
Our aim is to exceed your expectations.
Investing in our staff has always been a cornerstone of the Flexi ethos to develop the best people in the industry.
Directors, Craig Teede and Kelvin Mansfield, understand that customer service is a cornerstone to Flexi and ensure a strong focus on the quality of product and staff.
Flexi has developed a reputation for excellence in design, build and installation.
Our reputation ensures that we continue to attract and develop the best craftsmen in the industry.
Contact us today on (08) 9301 4200 and find out what makes our customers come back to us, you will be so happy that you did.
October 4, 2017