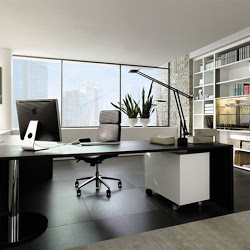 If you are looking for custom made furniture for your home office in Perth, then you need look no further.
The professional team at Flexi in Perth has been designing, building and installing beautifully functional home offices for the people of Perth since 2001.
With a vision to deliver a solution that exceeds your expectations in terms of quality, craftsmanship and delivery, you will be impressed with the whole process.
The Flexi team, have an outstanding reputation for both their product and their customer service, because they listen carefully to what their customers want and need in office furniture and storage solutions.
Send The Right Signals With A Professional Home Office
If you are serious about projecting a successful image for your business, then it is important to have a smart office layout with the correct office furniture including:
Smart desk with ergonomic chair
Comfortable seating for clients or customers
Ample storage cabinets for stationery items
Shelving for display purposes
Lockable filing cabinets to ensure privacy for clients files and personal information
A separate computer nook and charging station is a very handy space for the large monitor and various electronic communication devices, keeping your business desk uncluttered when dealing with clients.
Adequate lighting and ventilation
Easy access to drinking water or tea/coffee making facilities
Hidden power cords
The design team from Flexi will help address all of your office needs through innovative and beautifully functional design.
The Right Home Office Design
The right office design can have a marked impact on how productive you can be!
A well considered office design will:
Project a professional and successful image for your business
Compliment the way you work
Support your business needs
Be intuitive in design and layout
Be appealing to look at and spend time in
Declutter your workspace
Compliment the rest of your home while still giving you the sense of separation between 'home' and 'work'
Make it easy on yourself. Contact the team at Flexi Home Offices Perth, and make an appointment for a free home visit to look at your options for a very smart home office makeover, which will take your business to the next level.
Contact them on (08) 9301 4200.
July 15, 2019