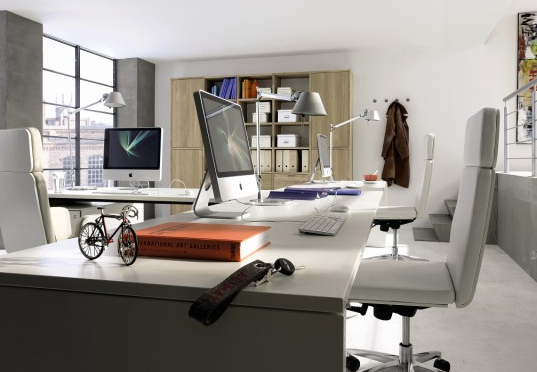 If you need the right furniture for your home office in Perth, it is very important to optimise the available space you have by choosing custom home office furniture.
If you need to work from home and have clients visit your office, your workplace will present with a very professional image if it looks trendy and smart.
Pieces of mis-matched furniture, boxes of papers, extension cords laying across the floor and the cat's bed, do not give a great first impression to new clients.
Whether you have a small space to work from or a couple of rooms, having the right office furniture will help streamline your work process and make your day more comfortable.
It is quite straightforward and inexpensive to incorporate a home office and functional office furniture for your business, into your home.
You need to make sure you have enough home office space to suit your office furniture and office storage furniture to fit all your home office business paraphernalia.
You could also look at options to have a separate entry for your office that is away from your main residential entrance, maybe a window could be replaced with a sliding door.
Trust Flexi Experience & Quality For Your Perth Home Office Furniture
The team at Flexi in Perth have been designing and creating office furniture for both professional suites and residential based businesses for many years.
They offer an excellent on site visit to take accurate measurements so every bit of space available will be used to create the ideal sized office furniture for your particular needs.
Having the right home office design and professional office storage furniture will:
Compliment the way you work
Support your needs
Be intuitive in design and layout
Be appealing to look at and spend time in
Declutter your workspace
Compliment the rest of your home while still giving you the sense of separation between 'home' and 'work'
The professional team at Flexi will be happy to discuss your specific home office design and furniture needs, making sure that all your requirements and ideas are taken into consideration.
Do yourself a favour and contact Flexi today on (08) 9301 4200 and speak to one of their experienced team to see how easy it is to turn your ideas into reality.
June 12, 2019