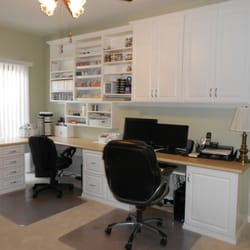 A home office is a valuable addition to any Perth home.  It is great to have a designated area for work or study that is separate from the hustle and bustle of the rest of the house.  Many people make the assumption that a spare room is needed to add a home office to their home, however, this is not true.  There are a number of creative ways of adding a home office to a Perth home even when there is no spare room available! Most people are amazed when they see how a simple space in a home can be transformed into a beautiful, functional home office.
Flexi Home Offices in Perth have been designing and creating home offices for Perth homes for years.  Their innovative and creative designs have been helping many Perth homeowners.  Not only can a home office improve the value of a home, it can also improve work productivity.  Many people now have the opportunity to work remotely or from home, making a home office the ideal set up.  Other people need a home office for study or work after hours.  Most Perth homes have a need for a home office. The home office industry in Perth is competitive and there are a number of businesses in Perth offering the service.  Here are some reasons to choose Flexi Home Offices in Perth!
1. Competitive pricing
At Flexi Home Offices in Perth, we guarantee to always provide our services at a competitive price. When Flexi Home Offices provide a quote, the quote is very accurate and includes full installation to the very last screw.  There are no nasty surprises in terms of hidden costs so the customer knows exactly what to expect!
2. Professional service
The team at Flexi Home Offices are proud of the professional service that they provide to all their customers. Their number one goal is to always put the customer and their needs first.
3. Top notch quality
Flexi Home Offices supply products that are of top-notch quality every time.  They take pride in producing office products that exceed customers expectations.  They stock a wide range of colours and materials to create the perfect home office to suit any home.
4. No delayed waiting
Flexi Home Offices can install a new home office in as little as 4 weeks!  They provide a guarantee to be on time and on budget every time!
Contact Flexi Home Offices in Perth to find out more!
August 17, 2018