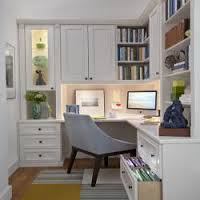 With many people in Perth choosing to work from their homes, whether they are running their own businesses, working remotely part time or semi retirees, they all need a designated space in their private homes where they can work in peace and quiet, uninterrupted.
During the past few years, home offices and home office storage furniture have become very popular.
The home office, furniture and office storage space needs to be designed to suit the individual who will be using it, and now there are so many wonderful home office design, style ideas and inspiration available for a beautifully functional home office.
Flexi Home Offices Custom Built To Suit Your Lifestyle
Flexi's home office designs are custom made to suit your home office storage and office furniture needs. Do not settle for a generic flat pack office, invest in a custom design home office that is designed specifically to suit your needs.
With Flexi Home Offices you have a range of choices including:
High end home office with luxury accessories and elegant finishes
Cost-efficient style ideas for a fully functional home office that matches your decor
Whatever home office style room you want and whatever your budget, Flexi have ample home office designs, and they will make sure that you have the home office that suits your personal requirements.
Call Flexi today and make an appointment to have one of their master craftsmen come to your home and discuss how the team can give you the perfect home office for your particular needs, they will:
Take the time to listen and understand your needs without disruption
Illustrate office design ideas that could resolve your most difficult storage challenges
Accurately measure the available space for your new office
Create a 3D computer model of your new storage solution design on the spot
Provide you with an instant quote
Just imagine having your own office space where all of your documents, files and your computer are kept securely in one place, and at the end of your working day you can lock the door behind you as you leave.
For innovative office design and storage ideas in Perth, contact the team at Flexi Home Offices on 08 9301 4200 to arrange a time for a home visit and free quote.
May 30, 2019