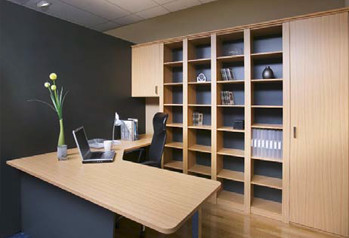 Today, many people choose to run their small businesses from their home office in Perth, rather than paying for expensive office rents.
If you can do this from a logistics point of view, then you can save a lot of wasted money in office rent, over a year.
It would be more profitable to invest the money you save on paying office rent, into growing your business from a home office instead.
When you become well established and your income indicates that you are able to easily afford to move your office to a professional suite, then you can do so without putting a strain on your business costs.
This scenario will work well if you have a well-equipped home office in Perth.
Getting Your Home Office Perth Set Up
When running your business from your home office, you really need a designated office space and office storage space, in particular a room with a door, which becomes your home office.
You need a home office with specific furniture for storage.
You need a door that can be closed and locked at the end of the day.
You can walk away from your work, and then enjoy relaxing and spending time with your family and friends at the end of the day.
You will need to write a list of all the office equipment you need and the correct furniture and office storage units.
It makes sense to have good storage furniture for all your papers and equipment.
Clever office furniture for storage will save you time and space.
When you have your own designated office space to work from at your residence, your workday will be much more productive.
Home Office Ideas
Firstly, you need a designated room, and then you need to decide what cabinetry you need.
You may need one large desk or you may need a smaller desk for your laptop while you have a seating area for your customers when they visit you.
What type of office shelving, cupboards or other storage systems do you need to suit your business needs?
Do you need multiple workstations for casual employees?
 The Perfect Perth Home Office Is Just A Phone Call Away
Working from home in a well-designed office is so much easier and stress free.
Our master craftsmen can design and install a custom home office in your residence that will suit your business needs perfectly.
For perfect results, get the experts from Flexi to get you ready to take up residence and start building your business.
Contact Flexi Home Offices on 08 9301 4200 or complete our online enquiry form and we will arrange a time for a home visit.
June 27, 2017