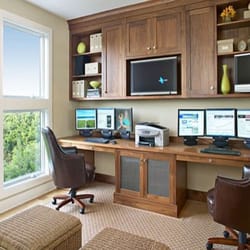 Home offices in Perth are fast becoming one of the standard requirements when building a new home.
There are many modern households which have the main bread winner working from an allocated area in the residence which serves as the workplace.
To function efficiently, the designated work space must have a smart layout and be conveniently located in the home to avoid clashing with the day to day activities of family members in the rest of the house.
Here are some simple guidelines to help you get the most out of your office space.
Choose a room close to the front entrance of your home to avoid clients or customers walking through your private quarters of the home. This can be uncomfortable for both customers and other members of the family who may be in the house.
It may be useful to use some form of screening in the entrance of your residence to discreetly direct your clients straight into your office.
Ensure your office door can be locked for privacy and security for your client's personal details.
Furniture in your office should include an ergonomic desk and chair, good lighting , adequate ventilation and suitable storage cabinets, lockable filing cabinets and easy to clean floor coverings.
Power cords to various electronic devices including phone, fax, printer, computers and so on, need to be kept to a minimum to avoid tripping over them.
Versatile Flexi Home Offices
An office is always a welcome addition to any home, however there may come a time when the room is no longer being used for that purpose. It is very easy to convert the space into a room which will be more useful. When set up properly, a room once used as an office can easily be re purposed later on in many ways including:
Library
Sewing room
TV room
Den / Study
Computer room
Overnight guestroom
Flexi have been creating exceptional office furniture for many very satisfied customers in Perth and surrounding areas for decades.
They are well known for the premium quality of the products they design and build as well as their outstanding customer service.
Flexi customers can expect:
On time delivery and installation
The ability to set work within their own budget
Quality workmanship
Professional standards
Friendly and courteous staff
Experienced office designers who listen and create the ideal solution for your unique needs
Colour and style choices that will compliment your residence
Qualified tradespeople who are respectful of your property
For any advice or to book a home consultation, please contact the team at Flexi Home Offices.
September 12, 2018